Nationally Significant Infrastructure Projects (NSIP) Update 12 October 2020
The Development Consent Order (DCO) is the last stage of a Nationally Significant Infrastructure Project (NSIP) at which the public or organisations can contribute their views and concerns about the planning application.   At the end of this the Examining Authority of PINS (a Panel of Planning Inspectors) 'examines' the application then makes a recommendation to the Sec of State who gives the final decision of approval or rejection.   And within the DCO there are several parts or Hearings.   Each has a deadline by which individuals and organisations have to apply to participate, either in writing or verbally.  This update will explain that briefly and tell you what has happened so far with an NSIP DCO right here in our area, and what you can do.
Sizewell C
The third stage of public consultation on the proposals for a new nuclear power station at Sizewell began on 4 January 2019. Public feedback could play an important part in the development of the proposals. 
To participate in the consultation process, click on this link:
www.edfenergy.com/energy/nuclear-new-build-projects/sizewell-c/proposals/stage-3
The consultation ends on March 29 2019.
As part of the consultation, EDF Energy have organised a series of public exhibitions to elaborate on their plans. Details are: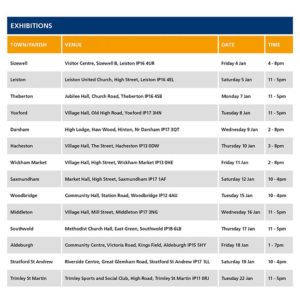 SZB Consultation: from 4 January to 1 February 2019, EDF Energy is consulting on proposals to relocate some Sizewell B facilities. To participate in that consultation, please see www.rlfsizewellb.co.uk for more information.
Scottish Power
Scottish Power Renewables have launched the Phase 4 Consultation in respect of offshore and onshore developments. For full details of public exhibitions and the consultation process, please click on the link below:
https://www.scottishpowerrenewables.com/pages/ea_one_north_phase_4_consultation.aspx
ScottishPower Renewables  launch the final round of consultations on their latest proposals concerning onshore work associated with offshore windfarms on February 11 2019. A link to this consultation will be available shortly.
To read Aldeburgh Town Council's response to the last consultation, please click here ScottishPower3.5response
In August 2018, Aldeburgh Town Council responded to ScottishPower consultation 3.0. To read this consultation, please click on this link: Windfarm response  
For general information about windfarms off the East Anglian coast, please click on this link: http://www.scottishpowerrenewables.com
….
Annual Town Meeting
The Annual Town Meeting will be held on March 6 at 7pm in the Community Centre. For full details, please click on the link below:
……
Citizens Advice Bureau
Suffolk County Council have announced cuts in funding for the Citizens Advice Bureau. The CAB have launched an online petition to oppose the cuts and SCC have instituted an online consultation. To take part in both, please click on the links below:
C.C
First Draft Local Plan
Suffolk Coastal District Council has published the Final Draft Local Plan, supporting documents and evidence base. To view the Final plan and submit a representation, please click on this link: http://www.eastsuffolk.gov.uk/finaldraftlocalplan
The last date for submissions is February 25th 2019.
The Suffolk Coastal Local Plan is a framework document which will outline how the council sees the district developing over the next couple of decades. This First Draft Local Plan covers the period to 2036 and contains the suggested planning policies, which will be used to determine planning applications in the area in the future.  It also sets out the level of growth which needs to be planned for and identifies where that growth could be located and how it should be delivered.
To read Aldeburgh Town Council's first response to this consultation, please click on this link: Local plan response
………
…
Have your say on a bright future for local design
What makes Suffolk a special place in which to live, work and be?Inspired by award-winning designer Wayne Hemingway, a ground-breaking "Design Guide" for building and development in Suffolk is being created by the county's local authorities. Critical to its success will be local input and with this in mind, a survey has now been launched to ensure that the views of Suffolk people play a key role in future decisions. Although other counties have produced similar Guides, this will be the first that incorporates the wishes and opinions of the people that matter most: those that live (or have lived) in, work in or visit the county. Essentially, the people that love Suffolk.
The Suffolk Design Guide will provide ground rules for planning applications for future Suffolk projects and the survey (at www.suffolkdesign.uk) asks people to say what they do and don't like about the way Suffolk is currently built; from its public buildings to street lighting.
………
Ward boundary changes
The independent Local Government Boundary Commission for England asked people to comment on proposed ward boundaries for the new East Suffolk Council. In May, the government confirmed that a new local authority would be created in East Suffolk, formed of a merger between Suffolk Coastal and Waveney District Councils. The Commission asked for local views on the proposals before it finalised them in October. The boundaries will come into effect at the first elections for each authority in May 2019. The Commission has now published its findings. To see how Aldeburgh is affected, please click on this link https://consultation.lgbce.org.uk  then scroll down and click on East Suffolk. Aldeburgh Town Council responded to this consultation, please click on this link: Boundary change response
……
Parking in Aldeburgh
The power to enforce on-street parking will soon switch from the police to local authorities. Ahead of taking on civil parking enforcement (CPE), the Department for Transport requires that enforcement authorities wishing to operate CPE need to provide evidence of parking policies and strategies.
The East Suffolk Councils (Suffolk Coastal and Waveney District Councils) have produced a completely new parking policy document called the draft East Suffolk Area Parking Plan (ESAPP). It has been drafted with the objective of setting out greater detail on the broad parking policy objectives that are set out in the Suffolk Parking Management Strategy and how these will be administered by East Suffolk. To read Aldeburgh Town Council's response to this consultation, please click on this link:  Parking response
………
Coastal Footpath
 Natural England want to  establish a footpath round much of England's coast. As part of that plan, they are investigating a potential route between Bawdsey and Aldeburgh. Draft plans will be published in the Autumn with an eight-week public consultation process to follow. For more details and up-to-date information click on the links below.  http://www.gov.uk/government/collections/england-coast-path-bawdsey-to-aldeburghhttp://www.gov.uk/government/collections/england-coast-path-improving-public-access-to-the-coast
Click on the link above for the draft minutes of the 2018 Annual Town Meeting.
Aldeburgh Town Meeting