653 Squadron Army Air Corps, located at Wattisham, has had a long association with Aldeburgh. They support the town throughout the year at a number of civic and public events. On June 22 2012, the squadron was granted Freedom of the Town of Aldeburgh as formal recognition of the links between the squadron and the town. And during the 2013 flood alert on the East Coast, soldiers from the squadron arrived in the town to help with the emergency.
653 Squadron is part of 3 Regiment Army Air Corps and a unit of 16 Air Assault Brigade. From early 1980 until 1992 the Squadron was in Germany in support of 3 (UK) Armoured Division, British Army of the Rhine. The Squadron dates back to the Second World War and their motto is Ubique Speculabundus – The Eyes of the Guns are Everywhere.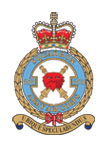 Squadron History
653 (Air Observation Post) (AOP) Squadron Royal Air Force (RAF) formed up at RAF Old Sarum on 20 June 1942 under command of Major TI Tetley-Jones Royal Artillery. The Squadron was equipped initially with the Tiger Moth Aircraft and later with the Auster Mk1. On 26 June 1944 the Squadron deployed to France on 26 June 1944, landing in Normandy on 27 June and went into action soon after. 653 (AOP) Sqn RAF were deployed in support of the British Army's 12 and 30 Corps as it advanced across north-western Europe and into Germany. The Squadron was disbanded in Hoya, Germany, on 15 September 1945 following the surrender of Germany. On 11 May 1948 the Squadron was reformed in Cyprus and moved to Aden in support of operations there. The Squadron was again disbanded in 1967 and reformed in Netheravon in 1971. The Squadron became part of 3 Regiment Army Air Corps in Soest, Germany, until the draw down of the Regiment at the end of 1992. With the centralisation of aircraft types in 2007 the Squadron was designated an Attack Helicopter Squadron and equipped with the Apache AH Mk1 battlefield helicopter. 653 Sqn AAC is located at Wattisham, Suffolk.