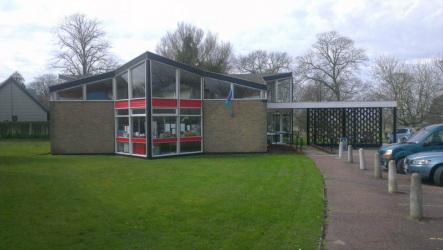 CONTACT DETAILS:-
OPENING HOURS:-
Monday, Tuesday, Thursday and Friday: 9am-1pm
Wednesdays: 9am-6pm
Saturday: 10am-3pm
Sunday: 10am – 1pm
Room hire – Space within the library
Capacity: 20 people for meetings, 40 people in rows
Cost: £7 per hour for community/charity/private bookings, £10.50 per hour for commercial/statutory bookings
Availability: Outside library opening hours, but note that availability is limited due to adult learning courses.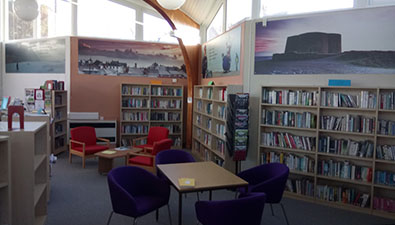 As always, we would welcome volunteers to talk to the children about their reading. If you would like to get involved please ask any of the staff in the library for more information.
Regular Events for children:
Baby Bounce and Tot Rock takes place from 10:30 to 11:00am every Monday. Join us for an informal half hour of singing and rhymes for young children and their families or carers.
Code Club for children aged 9 to 12 is on Mondays (3:45pm – 5pm).  We have a 'techie' expert, William Evans, who is giving up his time to help us offer this activity. William works in IT and knows practically everything there is to know about coding. It's FREE to attend. Come along and learn how to write code to create simple games, animations and more.  Contact us at the library to book your place.
…and for adults:
Friendship Fridays   takes place every Friday morning 10.30am – 12noon.  It's an informal get together with tea, coffee, cake, board games and other activities.  This event is led / facilitated by our parish nurse, Ali Cherry.  Everyoe is welcome – no need to book, just come along.
Home Library Service – we have spaces for new customers
Do you find it difficult to visit the library because you have problems getting out and about? If you, or someone you know, cannot visit your local library due to health or mobility issues, volunteers from Suffolk Libraries Home Library Service can bring the service to you!  The service is free and is available from Aldeburgh Library.  Volunteers will visit you regularly in your own home with a selection of books or spoken word CDs for you to choose from. You can also request titles or subjects from them.  If you or someone you know would like to receive this service, please contact us on 452502.
Memories Corner
We have ordered our first selection of 'Memory Boxes' for loan to library customers. They may even have arrived by the time you read this!  We have guidance notes which explain how to use the boxes, courtesy of Norfolk County Council.  We will be working on increasing our range of 'Titles' and to this end, we would appreciate donations of small items of old memorabilia.  Please think of our Memory Boxes before you put it in the bin!
Join the Library
It's quick and easy to join the library. All you need is something that shows your address such as a utility bill or driving licence. You can borrow books and DVDs and use any of the Suffolk Libraries online and digital services including BorrowBox, our new App.  We have computers (help available on request), an iPad for public use and free WiFi.  Bring your own device if you prefer.  Photocopying, scanning and printing also available.
We also sell postage stamps and a selection of greetings cards and postcards.
Find us on Facebook – just search for Aldeburgh Library from your Facebook page. Like and follow our page to see regular updates from us about events in the library. You can also follow us on Twitter.
East Anglian Daily Times A copy is available for customers to read in the library every day except Sunday.
Sue Osben, Library Manager
Telephone 01728 452502