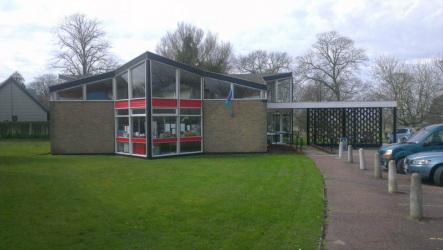 Contacts
Opening Hours
Room hire
Space within library
Capacity: 20 people for meetings, 40 people in rows
Cost: £7 per hour for community/charity/private bookings, £10.50 per hour for commercial/statutory bookings
Availability: Outside library opening hours, but note that availability is limited due to adult learning courses.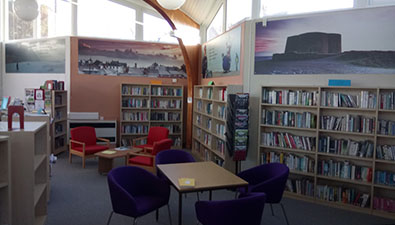 Aldeburgh Library News (April-May)
Warmer weather is with us at last and our Spring Term adult learning courses all come to an end this month. Thank you to all those who have supported us by attending these. Watch out for the new Autumn brochure which will be published (and delivered) in the summer.  In the meanwhile, we look forward to the library being taken over by "Mischief Makers" during the summer holiday. A new year started in April for the Aldeburgh Library Foundation Loyalty Card which is a benefit of the FOAL annual subscription. Members can use their card in some Aldeburgh businesses to benefit from a 10% discount.  The membership year is 1st April – 31st March and a year's subscription is £15.  Renew or join by calling in to the library where you can collect your card instantly, or via the website: 
www.aldeburghlibraryfoundation.org.uk
Many thanks for supporting your library in this way. We are already looking ahead and planning for the Summer Reading Challenge. Aimed predominantly at Primary School children, The Reading Agency and libraries present
Mischief Makers
, the Summer Reading Challenge 2018!  Dennis, Gnasher and friends invite you to set off on a hunt for Beanotown's famous buried treasure! As you read library books over the summer, collect special stickers and explore your map of Beanotown to find clues.  But watch out – Dennis is usually up to all kinds of mischief.  He'll make sure some of those stickers are extra stinky! As always, we would welcome volunteers to talk to the children about their reading. If you would like to get involved please ask any of the staff in the library for more information.
Regular Events for children:
Lego Club
is now running every Sunday between 11:00 and 12:00.  We are very fortunate just now to have Petronella, a Duke of Edinburgh Award student, coming along to support the club.  Lego is even more fun with Petronella! Lego builders aged 5 upwards are welcome. Children under 8 years of age should be accompanied by an adult please.  Do come along and have a go – it's FREE to attend. We always appreciate any donations of unwanted Lego.
Baby Bounce and Tot Rock
takes place from 10:30 to 11:00am every Monday. Join us for an informal half hour of singing and rhymes for young children and their families or carers.
Code Club
for children aged 9 to 11 is on Mondays (3:45pm – 4:45pm).  We have a 'techie' expert, William Evans, who is giving up his time to help us offer this activity. William works in IT and knows practically everything there is to know about coding. It's FREE to attend. Come along and learn how to write code to create simple games, animations and more.  Contact us at the library to book your place.
…and for adults:
Story Time for Adults
has now restarted with Tom Southern (thank you, Tom) meeting fortnightly. Join us on the 2
nd
and 4
th
Tuesday of each month. Tea and coffee provided.  See Facebook or contact the library for details or to see who the author will be for each session.
Beach Bonkers
  Join us on Tuesday 29
th
May 2:30 – 4:30 pm when Beach Bonkers will be taking place in the library. Can you decipher the clues to find the treasures hidden in the mini-beach? There will be a tableful of beachcombing treasures for you to handle. Have you ever held a mammoth's tooth? Will you look after the beach in the giant beachcombing board game and make it to the end and become a successful beachcomber? Beach Bonkers is for children and their families and is all about helping people to appreciate their natural world and the amazing things you can find on a beach.
Home Library Service – we have spaces for new customers
Do you find it difficult to visit the library because you have problems getting out and about? If you, or someone you know, cannot visit your local library due to health or mobility issues, volunteers from Suffolk Libraries Home Library Service can bring the service to you!  The service is free and is available from Aldeburgh Library.  Volunteers will visit you regularly in your own home with a selection of books or spoken word CDs for you to choose from. You can also request titles or subjects from them.  If you or someone you know would like to receive this service, please contact us on 452502.
Save the date: 3D Printer Taster Session: Thursday 14th June at 2:30
. Come and see our 3D printer in action.  Not only that – find out how to write the code to tell it what to do! Alan Hallett will lead us through the steps.  Bring your own lap-top and have a go, or just come and see what can be done.  Please contact the library for further details.
Memories Corner
We have ordered our first selection of 'Memory Boxes' for loan to library customers. They may even have arrived by the time you read this!  We have guidance notes which explain how to use the boxes, courtesy of Norfolk County Council.  We will be working on increasing our range of 'Titles' and to this end, we would appreciate donations of small items of old memorabilia.  Please think of our Memory Boxes before you put it in the bin!
Good News:
Aldeburgh's Amazing Swifts
have reached and exceeded their target of 50 new nest boxes. You can see their informative displays in the library giving facts about Swifts and a lovely Wilfrid George map showing all the new (and old) nesting sites. And of course, we look forward to welcoming back the stars of the show, the swifts themselves, on 7
th
May.
Join the Library
It's quick and easy to join the library. All you need is something that shows your address such as a utility bill or driving licence. You can borrow books and DVDs and use any of the Suffolk Libraries online and digital services including BorrowBox, our new App.  We have computers (help available on request), an iPad for public use and free WiFi.  Bring your own device if you prefer.  Photocopying, scanning and printing also available. We also sell postage stamps and a selection of greetings cards and postcards. Find us on Facebook – just search for Aldeburgh Library from your Facebook page. Like and follow our page to see regular updates from us about events in the library. You can also follow us on Twitter.
Sue Osben, Library Manager Telephone 01728 452502