Aldeburgh Sports Week kicked off on July 30 – five days of organised sporting events for young people between 7 and 12 years old. On the final day, children between four and six years old also enjoyed a Junior Sports Day. And then, in sizzling temperatures, everyone tucked into a fantastic  barbecue.
Throughout the week, activities, included street dance, boules, cycling, tennis and archery, sailing at Slaughden Sailing Club, football, music theatre dance, circus-theme dance and Mint Fitness fun and games, darts, bowls, golf at Aldeburgh Golf Club,  aerobics, dance with props, rounders,street dance, tag rugby and Mint Fitness circuits.
Cllr Sally Jones, organiser of the Sports Week activities, said the event had been a huge success and thanked children, parents, sponsors and volunteers for their support.
Sports Week 2018 was sponsored by Aldeburgh Community and Sports Centre, Aldeburgh Fish and Chip Shop, Aldeburgh Market, Baggotts Newsagents, the Co-op, Geoff Platt, the Latymer Trust, Salter and King, Suffolk Coastal District Council, Tesco, Suffolk Secrets, EDF and the Aldeburgh Triathlon.
For road closure details, click here: Triathlon 2018
Our new play area is up and running
The play area at King's Field was officially opened by the Mayor, Councillor Jocelyn Bond on December 12. Accompanying her were District Councillor T.J. Haworth-Culf and Aldeburgh Town Councillor Sally Jones, who was responsible for delivering the project.
Earlier in the year, Councillors took the bold decision to scrap the old, dated equipment and build a playground fit for the future.
The Primary School and a local playgroup were asked what they wanted to see there and based on their input, the Town Council drew up plans and commissioned suppliers to build the equipment.
The specification was simple – everything had to be constructed from recycled materials to reduce repair costs and the equipment had to be eye-catching and relevant to the town. The play area is next to the Fire Station so a fire engine was an obvious choice and, so too, was a boat, to reflect Aldeburgh's seafaring heritage.
Realise Futures, a local firm employing disadvantaged and disabled people, made a superb job of the boat, the fire engine and the picnic area. And Playquest, a specialist playground equipment manufacturer, supplied the Activity Unit.
The Town Council felt it was essential to provide a safe area for young people to enjoy themselves and the picnic spot was an important meeting place for parents and families.
The play area is situated on Jubilee Walk, which is used by dozens of parents and children on their way to and from the Primary School. An ideal spot for young people to let off steam!
King's Field has become the sports and recreational hub of the town. It boasts an outdoor gym for older children and adults, a vast grass area for every kind of ball game, a venue for the town's annual Sports Week, the home of Aldeburgh and Thorpeness Rugby Club and the Community Centre and a privately-run fitness provider.
Aldeburgh Town Council contributed a significant sum towards the cost of the play area with additional sponsorship from Suffolk Coastal District Council's Enabling Communities Fund.
Aldeburgh Sports Week 2017 – Report and pictures
Dozens of youngsters turned out in force to take part in Aldeburgh's annual Sports Week.
The five-day programme featured events such as rugby, golf, football, rounders, tennis, bowls and boules, street dance, fitness, darts, cycling and combat – with enthusiastic young people from Aldeburgh and surrounding areas getting stuck in and really enjoying themselves.
Events this year were slightly curtailed because of uncertainties over the timing of a major drainage project at King's Field but that didn't stop the fun. Not even a wet afternoon slowed things down, with plenty of games being played in the Community Centre.
The only disappointment were high winds which forced the sailing event to be cancelled but even then, Slaughden Sailing Club found plenty of things to amuse the would-be sailors.
Special credit goes to the hardy young golfers who played through wind and rain at Aldeburgh Golf Club. That's what you call keen!
But the event was a huge success with parents and children all saying how much they enjoyed and appreciated Sports Week
Councillor Sally Jones, who organises the event, praised the youngsters who took part.
"Once again, they were absolutely brilliant," she said" They turn up and tackle every sport with incredible enthusiasm. It's a pleasure to watch so many young people taking part in sporting events."
Sports Week is supported by sponsors who provide funds and food and this year's event was helped by Aldeburgh Fish and Chip shop, Aldeburgh Market, Baggotts newsagents, Solar at Leiston, Geoff Platt greengrocers in Leiston, the Latymer Trust, Salter and King in Aldeburgh, Tesco in Aldeburgh, the Community Centre and with financial contributions from Suffolk Coastal District Council and Aldeburgh Town Council.
Coaches and tutors included Jay (at JustJayDance), Coral (fitness), Johnny (cycling), Christine and Amanda (tennis), Jamie and Ryan (darts), Leslie (sailing), Becky (Mint Fitness) and coaches from Aldeburgh and Thorpeness Rugby Club.
Helpers at the event included the Mayor, Councillor Jocelyn Bond, and Town Councillors Julian Worster, Mike Kiff, Pille Partel, Elizabeth Oxby, Sue Osben and District Councillor T.J.Haworth-Culf. With special thanks to Deputy Mayor John Digby and his wife Jenny, Kerry and Adele, Tom, Andy, Petronella, Victoria, Caron and Karen.
Tennis Club
Aldeburgh Tennis Club is situated off Park Road. There are four championship standard courts. Two are floodlit and play is possible throughout the year.  Season tickets are available for members but non-members and visitors are welcome to use the courts on a pay-as-you-play basis.
Full year membership rates are £50 for adults, students £25 (must be in full-time education) and juniors (7-14 years) £15.
Adult club sessions (members only) are on Thursday evening between 5pm and 8pm and Sunday morning between 10am and 1pm.
Junior coaching sessions (for 7-14 year old club members) are available between 9.30 and 10.30am on Saturdays.
The courts are available for use by the public on a pay-and-play basis, at an hourly rate of £2.50 for adults and £1 for children. Payment can be made into the honesty box underneath the sign at the entrance to the courts. There is no booking and it is first come, first served, but play is limited to one hour when the courts are busy. Please avoid Thursdays 5-8pm and Sundays 10am-1pm as the Tennis Club has priority at these times.
The tennis club is affiliated to the Lawn Tennis Association and takes part in both men's and women's leagues. In addition to league matches, the club holds tournaments, inter-club friendly matches and a number of social and fund raising events.
Amanda Janes, former UK Number 2, is available for private coaching on Mondays and Thursdays during term time. Contact her on janesamanda@hotmail.com.
There are a few basic rules: non-members must pay before playing, play is at your own risk, correct footwear must be worn, one-hour maximum play if courts are busy, lower nets after play, no bad language or aggressive play, no football or other ball games on the courts and no bikes or scooters.
General enquiries can be emailed to the Tennis Club Secretary, Eleanor Barker – eleanor_barker@hotmail.com
For membership enquiries, please click here: info@aldeburghtowncouncil.co.uk
Bowls
Aldeburgh has a thriving Bowls Club. Situated next to the town's tennis courts (between Jubilee Walk and Park Road), the club is open between early-April and mid-September.
Membership is £35 a year, but you can pay-as-you-play for £2.50 a session. Members days are Tuesday, Thursday and Sunday afternoons, league dates are Monday and Wednesday evenings.
Equipment can be borrowed by arrangement and the club offers two free taster sessions for people thinking about becoming members.
For further details, contact the club Captain Phyll Cakebread on 01728 454674 or email pkcakebread@btinternet.com
King's Field
King's Field is the largest recreational area in the town. Situated between the Community Centre and the Fire station, the area has an outdoor gym, play equipment for juniors and an enclosed playground area for toddlers. It is also the starting point for a picturesque ramble along Jubilee Walk, past the town's allotments and out on to the marshes and the river wall.
Public lavatories are situated next to the Community Centre.
Aldeburgh Cinema
For the latest film listings and News, click here to go to the Aldeburgh Cinema website.
Make a note in your diary for the annual Aldeburgh Documentary Festival, which starts on 3rd November and runs until 5th November. Click here for more information.
Aldeburgh Cinema is the home of the town's Visitor Information Centre. The service features an interactive terminal for visitors to use to access key tourist information websites. Cinema staff and volunteers will be on hand to help with questions. The cinema will be open from 10am to 5pm-6pm (depending on the time of the year) to cater for extra visitors and customers.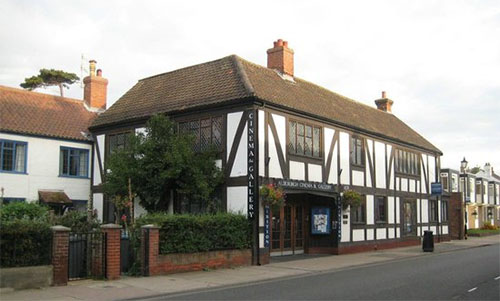 Jubilee Hall
Aldeburgh's Jubilee Hall has a full programme of events to amuse and entertain.
Please visit their website for full details: www.aldeburghjubileehall.co.uk
Gardening Club
Aldeburgh Gardening Club meets on the second Tuesday of the month at 7.30pm  in Aldeburgh Church Hall on Victoria Road. Entrance is free for members and £2 for guests. To join the club, phone Barbara Prodger on 01728 454539 or just pop into one of the meetings.
For more information, click here.
Aldeburgh Photography Group
Aldeburgh Photography Group is a friendly, independent group of photographers. Our members are of mixed levels of experience and we welcome photographers of all ages and abilities. Our aim is to help our members to develop their photographic talents so that they can get more out of their interest in photography.
Click here for more information.