Doesn't the town look bloomin' lovely?
From hanging baskets on the town's lamp posts to the fabulous display by the War Memorial, the town is as pretty as a picture.
Lots of residents, holidaymakers and day trippers have stopped by to say how much they like Aldeburgh's floral display.
Funded by the Town Council, all the plants were supplied by Richard Geater of Geaters Nursery in Leiston and are maintained daily by our partners, Norse.
Councillors believe it is vitally important for the town to look its best, particularly during the summer months, but throughout winter,too.
Aldeburgh is a special place and we aim to keep it that way!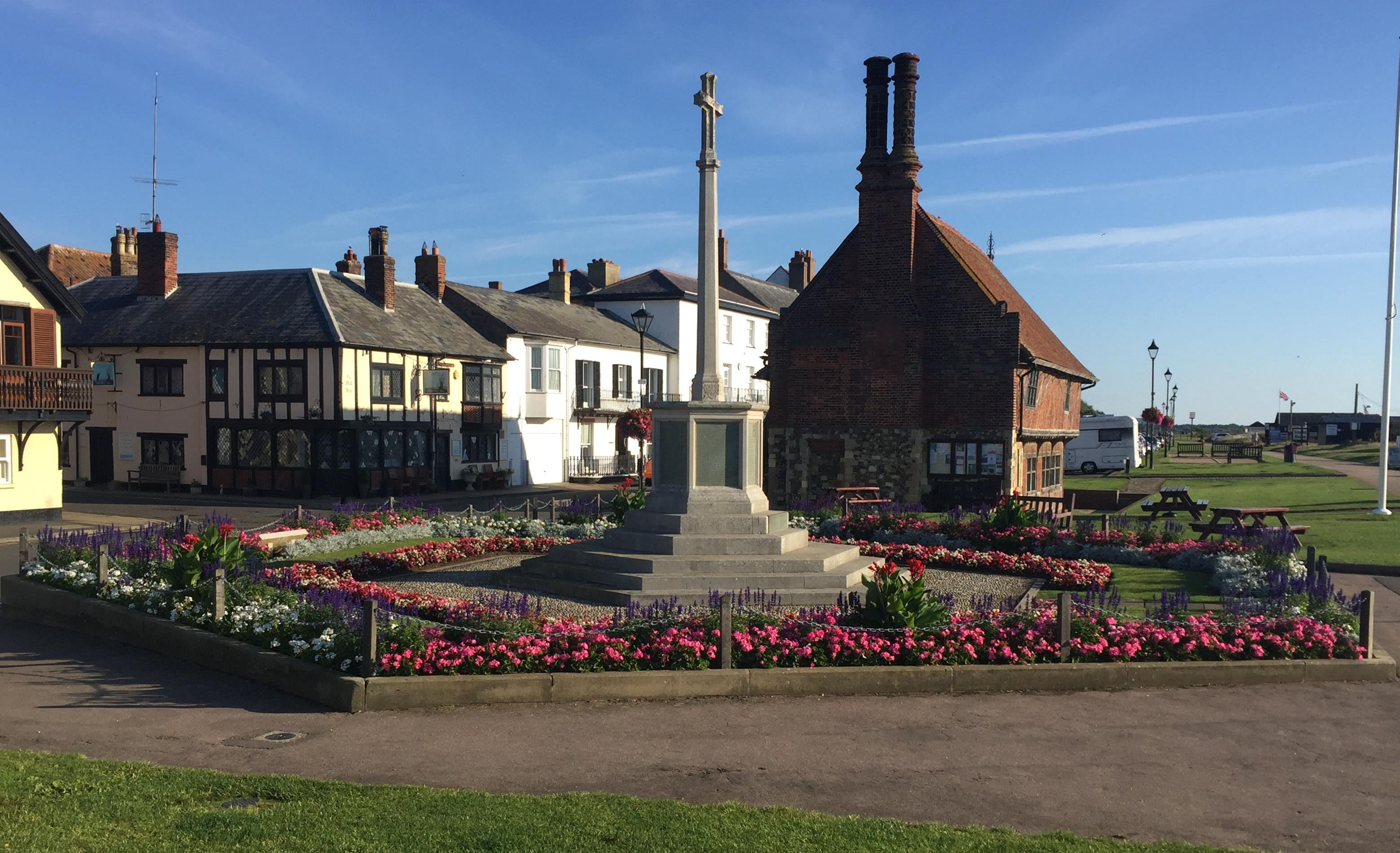 Mayors Sunday
Aldeburgh celebrated the installation of the town's new Mayor, Councillor Jocelyn Bond, at a Civic Service on Sunday May 21st.
Led by the Leiston Branch of the British Legion Band, Councillor Bond and fellow town councillors joined representatives from a large number of  organisations in parading from the Moot Hall to the Parish Church for a Civic Service. The Reverend Nichola Winter led the service and the Very Reverend Christopher Lewis preached the sermon. Councillor Julian Worster read from Acts and Councillor Bond read from John.
The Mayor's Parade included the Deputy Mayor of Aldeburgh, Councillor John Digby and town councillors and their wives or partners, representatives from the RNLI, the Coastguards, the Fire Service, 653 Squadron Army Air Corps, the Aldeburgh Carnival Committee, Aldeburgh Brownies, Suffolk County Council, Suffolk Coastal District Council, the Mayor of Woodbridge and a variety of other organisations.
Following the church service, the Parade returned to the Moot Hall where Councillor Bond addressed well-wishers. She said it was  a great honour to be asked to represent the people of Aldeburgh.
"The first thing I must do is to thank our outgoing mayor, John Digby, with his wife Jenny for all their hard work – there's not a day I don't see John out and about, transporting essential things from place to place (Aldeburgh's Jason Statham!) or appearing in the national papers -raising Aldeburgh's profile by his contact with the great and the good.  John, your association with luvvies and Royalty this year is going to be impossible to beat.
"Councillor Digby has done such an outstanding job, which is why I have asked him to be my deputy so that he can pretty much carry on uninterrupted, with all the things he is so good at.
"Nowhere can remain completely static, however charming; it is vital to never stop investigating and embracing the new, but I hope that the Town Council is allowed to continue to do this while protecting what makes the Town so special.  A large part of this is to retain and support the people who make it work – some could say they 'are' the Town, and also draw in new people – fresh blood – who bring with them ideas that help contribute to keeping the essential Aldeburgh apparently unchanged.
"As most of you are probably aware, Adrian and I chose to move to Aldeburgh with our daughter about 15 years ago.  I was immediately charmed by the gentle feel of the place, the kindness of our neighbours, and Rosa has grown up in a town she actually occasionally says is 'quite cool'.  I'm sure you agree, an accolade from a mid teen.
"The Moot Hall's transformation, alterations to the Suffolk Coastal Local Plan, continuing to action the Town Plan and an almost certain appeal against the Brick Pit application are all going to be challenges of one sort or another for this year.
"The 75th  Aldeburgh Carnival; celebrations marking the life of Elizabeth Garrett Anderson, the Men's Cycle Tour, Sports Week, High Tide Festival are among many high points.  As is the provision of some affordable homes for local people as part of the redevelopment of the old Police Station site, the application for which is now looking close to being concluded, around 29th June.
"As a pro-active, united and forward-looking Council, I am sure we all look forward to continue being efficiently and well represented by our two Ward Members, Cllrs Haworth-Culf and Jones, and by our newly elected member for Suffolk County, Russell Rainger, who I am sure will continue the very hard work and close involvement of Richard Smith.
"Personally, I would like to thank all Councillors and particularly Councillor Worster for all their help and their hard work,, and our Town Clerk Ruth, together with Lori and Roger for all their much needed help and advice, particularly recently.  I think we should take time to consider quite how lucky we are to have such a strong team in place, and to take care of and respect them, as they do us.  With my background (in HR) I know that such structures don't come about just by accident and are perhaps rarer than we like to think!"
Invited guests then enjoyed a reception at the Moot Hall.
New Inshore Lifeboat
Aldeburgh Royal National Lifeboat Institute hosted an official naming ceremony on Saturday June 10th for its new inshore boat, the Susan Scott.
Sue Scott, a generous patron of the RNLI, attended the official naming ceremony of the boat, which was blessed by the Rev Mark Lowther, priest in charge of Aldeburgh Parish Church.
Dozens of townspeople turned up to watch as Sue gave the boat a Good Luck shower of bubbly.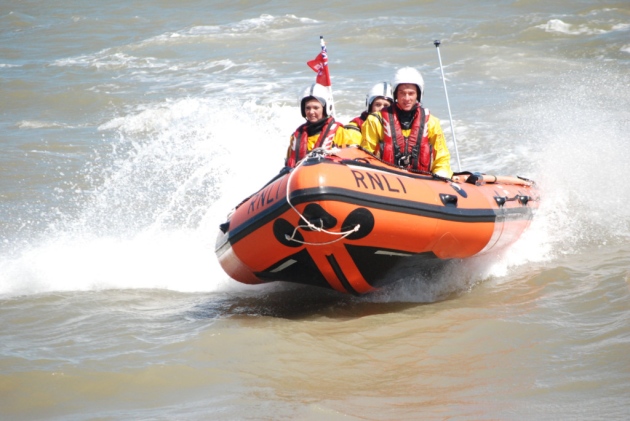 Sporting and cultural grants
Aldeburgh Town Council is pleased to report on two substantial grants to improve sporting and cultural activities in the town.
The Moot Hall and Aldeburgh Museum
The Heritage Lottery Fund has awarded a grant of £77,000 to Aldeburgh Museum who will work in partnership with the Town Council to redevelop the 16th century building and museum. Project leaders will start work on the plan to massively improve the museum before applying for a full grant of around £800,000. The Moot Hall is the home of Aldeburgh Town Council and is one of Britain's oldest buildings to be used continuously for local government. The Mayor of Aldeburgh, Councillor John Digby, said the town council was delighted to be working with the Museum Trustees on a project that would better showcase the building, it's artefacts and the town's history. The Museum trustees hope to use digital technology and virtual reality displays to overcome a shortage of space.
For more information about the redevelopment project, click here.
King's Field
Sport England have awarded the Town Council an £82,000 grant to improve drainage at King's Field recreation ground. The town's largest recreation ground is close to the marshes and over the last few years most of the land has become unusable after heavy rain. Now, the Town Council, in conjunction with Sport England, will improve drainage to create better facilities for rugby, football and a host of other sports. Councillor Sally Jones, who led the project to land the grant, said: "We can't thank Sport England enough for this money. It will make a huge difference to sports facilities in the town."
The work, which will start in the summer, will involve digging up a substantial section of King's Field, installing a network of drains  and then re-laying the entire surface. The field will be out of action for some considerable time.
Visitor Information Centre
Aldeburgh has got a new Visitor Information Centre.
Suffolk Coastal District Council in partnership with the Aldeburgh Cinema Trust opened  a new self-help service in the cinema foyer. From Saturday April 1 2017 the cinema will now open between 10am and 5pm or 6pm (depending on the time of the year).
The new service features an interactive terminal for visitors to use to access key tourist information websites. Cinema staff and volunteers are on hand to help.
Sally Irvine, Chair of the Aldeburgh Cinema Trust, said: "As a community cinema, we're delighted to be integrating the Visitor Information Service with our film entertainment. We look forward to welcoming visitors to the new service."
Filming in Suffolk
Screen Suffolk are offering a one-stop film service for movie makers. They promote Suffolk's film service infrastructure, creative talents and stunning landscape. Their service includes location fixing, obtaining permission to film from relevant authorities, providing crew and actors. Full details from info@screensuffolk.com.