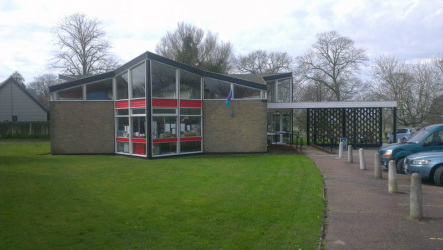 Contacts
Opening hours
Day
Hours
Monday
0900 – 1300
Tuesday
0900 – 1300
Wednesday
0900 – 1300
1500 – 1800
Thursday
0900 – 1300
Friday
0900 – 1300
Saturday
1000 – 1230
1300 – 1530
Sunday
1000 – 1230
1300 – 1530
Room hire
Space within library
Capacity: 20 people for meetings, 40 people in rows
Cost: £7 per hour for community/charity/private bookings, £10.50 per hour for commercial/statutory bookings
Availability: Outside library opening hours, but note that availability is limited due to adult learning courses.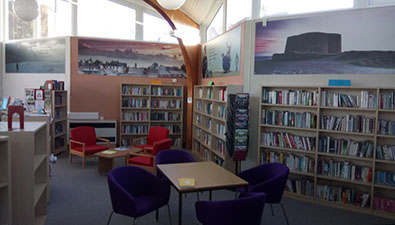 Other information
Free parking
Projector available for additional charge
Free wifi available. Scanning, printing and photocopying facilities.
Address – Victoria Road
Aldeburgh
IP15 5EG
Display space
Two cork boards in the foyer
Displays posters for local societies and events.
Aldeburgh Library News
Events.
On Tuesday 10th October, Aldeburgh's very own Iestyn Edwards as Madame Galina brought "My Tutu Went AWOL – The Book Show" to Aldeburgh Library.  Iestyn told his story of being the only drag variety act –  Madame Galina – to entertain troops in Iraq and Afghanistan. Interspersed with singing, dancing and lots of humour, it was a very enjoyable evening.
Coming up in November.
Wednesday 8th November from 6pm in the church hall: Trump – One Year On.  Supper and a talk with Lynne Walker. This is proving to be very popular so please contact the library for details.
A date for your diary: Storytime for Adults and Coffee Morning is taking place on Thursday 9th November at 10:30 where you can come along and relax, listen to a story and have a chat and a cuppa.  On this occasion we will also have a pop-up café with cakes, tea and coffee available to buy courtesy of Aldeburgh Cafe.
On Monday 13th November at 2:30pm we are hosting a Dementia Friends Information Session – an opportunity for family members, carers, business owners and other interested parties to come and find out more about how to manage this illness.  There is no charge for attending this event.
 Displays/Exhibitions.
You can still see the slide show commemorating the Centenary of the death of Elizabeth Garrett Anderson for a little while longer.
We have on display the plans and concept diagrams for the Aldeburgh Moot Hall Museum Redevelopment Project.  Have your say about the plans by leaving your message in our Comment book or by following the links to complete the online survey from the museum website.
Aldeburgh's Amazing Swifts – discover some amazing facts about swifts and find out how you can help our swifts by installing a nest box.  Wilfred George's map shows existing nest sites and the sites of proposed new nest boxes.  See how Alan and Christine Collett's target to have 50 new nest boxes is progressing.
Christmas
A wide range of charity Christmas cards, wrapping paper and other festive bits 'n pieces are now on sale in the library.  Come and browse our selection, support the library and your favourite charity.
Courses.
The autumn term of Adult Learning Courses is now well under way.  Choose from modern languages, practical art, jewellery making, Zumba and yoga as well as some more academic courses featuring music, drama, film and literature. Coming in December we have a one-off workshop to make your own Christmas Wreath with Teresa Cook.  You can book your place on any of our courses by enquiring at the library or via the Aldeburgh Library Foundation website http://www.aldeburghlibraryfoundation.org.uk/  The new programme of courses, starting in January, will be available in December.  As always, if you don't see anything that interests you please let us know.  All suggestions for future courses are welcome.
Library Membership and Services.
Not a library member? No problem.  Pop in to the library any time with a utility bill or driving licence (anything showing your address) and we can join you up instantly. You will then be able to use the full range of library services at any of Suffolk's 44 libraries and also online. You can borrow up to 20 books at a time including audio books and large print.  You can hire DVD's for a small charge (most DVDs are £1). We have computers and an iPad for public use and free WiFi.  Bring your own device if you prefer.
Library membership also gives you access to Freegal, our free music download service and our full catalogue of eBooks and eAudio books.  It's easy to renew books online if you can't get here in person.  Check out BorrowBox, a library in an App.  It's new. Download the BorrowBox app from the App Store, Google Play or on Amazon Fire; select Suffolk Libraries; sign in using your library ID/barcode and your PIN and you're ready to go.
Tot Rock and Baby Bounce takes place from 10:30 to 11:00am every Monday. Join us for an informal half hour of singing and rhymes for young children and their families or carers.
Finally – find us on Facebook – just search for Aldeburgh Library from your Facebook page. Like and follow our page to see regular updates from us about events in the library. You can also follow us on Twitter.
Theatre in the Library
Arts Council England have awarded a grant of more than £50,000 from their Libraries Fund for new theatre company, Librarian Theatre, to produce their third tour, an experimental new adaptation of Alice in Wonderland, called Alice in the Cuckoo's Nest.
And the production is coming to Aldeburgh Library on Sunday December 17th at 6pm.
The Arts Council Libraries Fund, part of ACE's wider Grants for the Arts scheme, is intended to foster collaboration between libraries and arts organisations. Librarian Theatre works alongside the library sector to deliver accessible, affordable high-quality theatre to local communities.
Actors Tom Cuthbertson and Kelly Eva-May set up Librarian Theatre as a not-for-profit company in 2015, successfully trialling the concept last year with a 43-show tour of Hamlet, followed by a 25-show tour of A Christmas Carol. Both texts were newly adapted for the purpose, with library-themed designs and the lead roles of Hamlet and Scrooge re-gendered to be performed by women.
Alice in the Cuckoo's Nest re-imagines Lewis Carroll's classic story in the setting of a modern day mental institution. Although the show is family friendly, it is a far cry from the innocent adventure portrayed by Walt Disney's 1951 film version: "We're not shying away from the darker sides of the subject matter," said Cuthbertson, "but nor will there be overly explicit content which would exclude younger audience members. Hopefully audiences of all ages will take something away from it, and it will help fuel important conversations about mental health."
Tickets are on sale at www.librariantheatre.com and in the Library.
Full details are available at: https://drive.google.com/drive/folders/0BxMaAANzl1t4Q2lVOGpMdG9HeEU?usp=sharing