The Inquiry:
The Public Inquiry into the Brickfields planning appeal started at 10am on Tuesday September 11 in the Community Centre, Aldeburgh.
Led by Planning Inspector Lesley Coffey BA(Hons), BTP MRTPI, legal representations were made on behalf of Suffolk Coastal District Council, Aldeburgh Town Council, the Aldeburgh Society, local residents and the developer, M.S.Oates.
The Inquiry is expected to last until Wednesday September 19.
Members of the public can attend the Inquiry, which sits from 10am each day. Please note: the Inquiry will NOT sit on Monday September 17. It will also adjourn at some point to enable the Inspector to make a site visit.
The background:
A Lowestoft-based builder submitted plans to build 43 new homes on the Brickfields Barn site in 2015. This involved demolishing redundant stores, change of use of a builders' yard and re-developing a former quarry. The site is within an Area of Outstanding Natural Beauty and contains a Site of Special Scientific Interest.
Aldeburgh Town Council, the Aldeburgh Society and Suffolk Coastal District Council opposed the development, which is now the subject of a Public Inquiry.
No further representations can be made in respect of this Inquiry. 
The Inquiry Timetable:
Appeal reference: APP/J3530/W/17/3172629
Town and Country Planning Act 1990
APPEAL by M.S.Oakes Ltd
SITE at Brickfields Barns, Saxmundham Road, Aldeburgh, Suffolk IP15 5PA
Inspector: L.Coffey BA(Hons), BTP MRTPI
Start date: January 16 2018
Submission of questionnaire: Received
Deadline for comments from interested parties: February 27 2018
Submission of statement of case (Local Planning Authority): Received
Submission of statement of common ground: July 17 2018
Submission of proofs of evidence: August 14 2018
Witness names and anticipated duration for opening and closing statements, evidence in chief , cross examination of other parties' witnesses
and copy of LPA event notification letter: August 21 2018
Inquiry time, date and venue: 10am on September 11 2018 at the Community Centre, Aldeburgh (venue to be confirmed)
Estimated number of sitting days: Six
Decision issued on or before (Inspector-decided cases): to be announced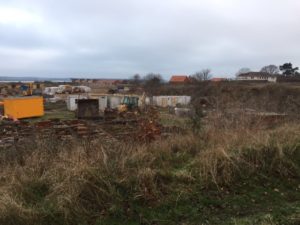 Aldeburgh Town Council's submission:
Aldeburgh Town Council opposed this development and submitted this document to the Planning Inspectorate. Click here to read it in full:
Brickfields Appeal Final submission
Suffolk Coastal District Council's submission:
Suffolk Coastal District Council also opposed this development and submitted this document to the Planning Inspectorate: Click here to read it in full:

Associated documents:
All associated documents relating to this appeal, including the appellant's submission, can be viewed using the following link:
http://www.eastsuffolk.gov.uk/planning/planning-applications/publicaccess
The official notice:
The Planning Inspectorate have officially announced the enquiry details. To view this document, click on the link below: