The background:
A Lowestoft-based builder submitted plans to build 43 new homes on the Brickfields Barn site in 2015. This involved demolishing redundant stores, change of use of a builders' yard and re-developing a former quarry. The site is within an Area of Outstanding Natural Beauty and contains a Site of Special Scientific Interest.
Aldeburgh Town Council, the Aldeburgh Society and Suffolk Coastal District Council opposed the development, which is now the subject of a Public Inquiry.
No further representations can be made in respect of this Inquiry. 
The Inquiry Timetable:
Appeal reference: APP/J3530/W/17/3172629
Town and Country Planning Act 1990
APPEAL by M.S.Oakes Ltd
SITE at Brickfields Barns, Saxmundham Road, Aldeburgh, Suffolk IP15 5PA
Inspector: L.Coffey BA(Hons), BTP MRTPI
Start date: January 16 2018
Submission of questionnaire: Received
Deadline for comments from interested parties: February 27 2018
Submission of statement of case (Local Planning Authority): Received
Submission of statement of common ground: July 17 2018
Submission of proofs of evidence: August 14 2018
Witness names and anticipated duration for opening and closing statements, evidence in chief , cross examination of other parties' witnesses
and copy of LPA event notification letter: August 21 2018
Inquiry time, date and venue: 10am on September 11 2018 at the Community Centre, Aldeburgh (venue to be confirmed)
Estimated number of sitting days: Six
Decision issued on or before (Inspector-decided cases): to be announced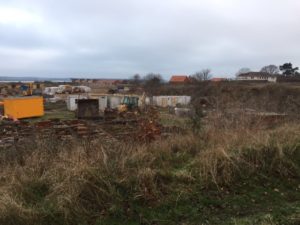 Aldeburgh Town Council's submission:
Aldeburgh Town Council opposed this development and submitted this document to the Planning Inspectorate. Click here to read it in full:
Brickfields Appeal Final submission
Suffolk Coastal District Council's submission:
Suffolk Coastal District Council also opposed this development and submitted this document to the Planning Inspectorate: Click here to read it in full:

Associated documents:
All associated documents relating to this appeal, including the appellant's submission, can be viewed using the following link:
http://www.eastsuffolk.gov.uk/planning/planning-applications/publicaccess